Current Resident Perspectives
Chief Resident Emily Dumas, M.D.

Why Weill Cornell Medicine?
Initially, I was drawn to this program for its reputation of having outstanding clinical training. When I had my interview day, I knew I wanted to come here because of the people. The residents were a joyful, tight knit group, and the attendings were so warm and welcoming. 
Favorite thing about WCM
The psychiatry department is full of masterful clinicians at the top of their fields, whom I found from day one to be endlessly devoted to their trainees. There is so much warmth and mentorship in this program. 
Favorite thing about NYC
On the Upper East Side, near the hospital, Central Park and Carl Schurz Park are perfect for long walks and picnics with co-residents! Throughout the pandemic, these parks provided the fresh air so many of us needed. I can't neglect this neighborhood's bakeries (the best in NYC in my opinion!): Levain and Orwashers! The infamous Levain cookies are a go-to order for residents' birthdays!
Chief Resident David Pioquinto, M.D.

Why Weill Cornell Medicine?
Weill Cornell was the most well rounded institution that I interviewed at. The department has everything that you could want in a psychiatric training - ongoing robust neurobiological research, ketamine/TMS, an openness to integrating cutting edge treatment modalities, and psychodynamically minded faculty who work to incorporate those elements in every interaction and setting of practice. Coupled with this are the people who make up the program. Faculty are accomplished and approachable. Co-residents are supportive and wonderful people who have quickly become friends.  
Favorite thing about NYC?
Best city in the world. On any given day you can do anything you want all within 45 minutes. You can go to the beach, hike, eat literally any type of food that exists on the planet, see amazing art, shows, or sit in the grass in a park. I love waking up on a weekend and realizing that there are so many ways my day could turn out. Beyond all of the options for activities, NYC has an energy and culture that I feel is unrivaled by any other city. 
PGY-III Reba Watsky, M.D.
Why Weill Cornell Medicine?
I chose Cornell for its long and illustrious history of psychotherapy training and for the care it takes to support resident well-being. As an added bonus, I get to follow in my mom's footsteps from her Payne Whitney training 35 years ago!
Favorite thing about NYC?
Getting to live with my fiancé!
Specific Interests in Psychiatry?
General adult psychotherapy; peripartum mood and anxiety disorders; therapeutic use of psychedelics
PGY-III Mary Cox, M.D.

Why Weill Cornell Medicine?
As a Cornell medical student Psychiatry was my last clerkship, I had been planning to go into OBGYN but I loved my experience with WCM Psychiatry so much that I switched fields very late in my third year. I knew that Cornell would continue to be a great fit but kept an open mind on the interview trail. Cornell's rich culture of psychodynamic training combined with an incredibly warm and family-like environment was something I couldn't find in any other program.
Favorite thing about NYC?
I love the walking culture -- I love being able to walk to restaurants, coffee shops, central park, and museums. A friend once said "in NYC we don't live in our apartments, we live in the city" and I really take that to heart (and COVID really hasn't changed that!). Zero commute: My apartment, the hospital, and my daughter's daycare are all at the intersection of 70th and York. This makes a huge difference, especially during intern year when time outside of the hospital is especially precious. I love raising my toddler in NYC. There are tons of playgrounds and parks nearby so she always has lots of playmates. We spend whole days in Central Park so she still has plenty of time outdoors. I love that she is growing up in this diverse and vibrant city. 
Specific interests in psychiatry?
I'm still very open-minded but women's mental health, family therapy, and general adult psychotherapy are strong areas of interest. 
PGY-II Chara Louka, M.D.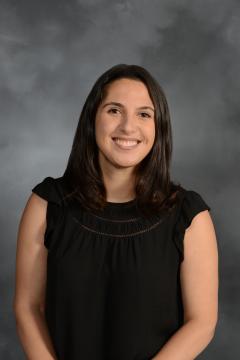 Why Weill Cornell Medicine?
I chose Cornell because of the people. The faculty here are not only experts in what they do, but they also care immensely about educating and supporting residents. Speaking of residents, I couldn't imagine a lovelier family to train with! 
Favorite thing in NYC?
Thrifting at vintage clothing & book stores, trying new restaurants all around the city, and being near friends and family. 
Specific interest in psychiatry?
Being an intern, I'm still exploring my interests within psychiatry!
PGY-II Katya Potkin, M.D.
Why Weill Cornell Medicine?
I remember on my interview day feeling that everyone was so warm, welcoming, and enthusiastic about the program. Now that I'm here, I understand firsthand what that excitement was about. The faculty, the administration, and the residents are all very eager to teach and learn from each other. There is a sense of family which is so important when you're living and training in such a big, anonymous city like NYC.  
Favorite thing in NYC?
Walking everywhere, never running out of restaurants to try, going to dog parks, meeting up with co-residents (who often live very close to each other!)
Specific interests in psychiatry?
Possibly reproductive psychiatry... but we'll see!
Faculty & Recent Grad Perspectives
Our Faculty
World-class faculty in many subspecialties. The department is energetic, vibrant, innovative, and fun!
I love working at Cornell! Every day I am so impressed with the trainees, staff, and faculty. They are passionate about what they do and also have a lot of fun while they do it. We always work together as a community and that is one of the things I most appreciate about working here!
As a resident, a large part of what made Cornell special for me was the incredible faculty. 
Now, as a faculty member myself, one of my favorite things about my job is being able to teach so many terrific residents.
The Weill Cornell Medicine psychiatry residency program is a place with many brilliant, friendly people.
George S. Alexopoulos, M.D.
The people are smart, energetic, caring and fun. Going to work is always inspiring!
Elizabeth Auchincloss, M.D.
Our Graduates
The inquiry and curiosity that come with residency are nurtured and reinforced again and again here, illustrating the pervasive sentiment of availability, approachability and hospitality at Cornell.
Duncan Cheng, M.D., Class of 2017
Everyone brings a thoughtful and integrative approach to patient care, utilizing multiple treatment modalities where appropriate, rather than touting one as the solution to all ailments.
Mike Avissar, M.D., Ph.D., Class of 2016