Day in the Life Video: PGY-2, Max Cabrera, M.D.
Day in the Life Video: PGY-1, Bobby Wozniak, M.D.
PGY-4: Ahmed Abdelrahman, M.D.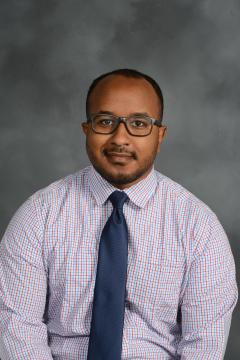 I wake up around 7 o'clock most mornings. Depending on the day, I join one of my co-residents for a few laps cycling around Central Park prior to the start of my work day. I am fortunate to be within a 10 minute bike ride of the greatest park in the world (I'm a little biased). I usually brew my own coffee at home and turn on ESPN as I get ready for my day. I live in East Harlem, which is a relatively short commute to campus on either the bus or subway, during which time I catch up on the latest news. 
I generally see my first patient around 9 for either medication management and/or psychotherapy. I see patients either in person or virtually, based on their preferences. Subsequently, I generally meet with one of my supervisors to review one of my psychodynamic psychotherapy cases. As fourth years, we carry a case load of around 20 patients with at least two psychodynamic psychotherapy cases. We have different supervisors we meet with weekly for each of our psychodynamic psychotherapy patients. We generally carry 2-3 additional therapy patients incorporating various modalities including supportive psychotherapy, cognitive behavioral psychotherapy, couples therapy, and interpersonal therapy.  
As fourth years, we have a wide variety of electives available to us. Currently I am on an addiction psychiatry elective where I see addiction consults in the hospital. The consults are interspersed with seeing additional patients throughout the day which gives me a realistic experience of what it is like to be an attending. In addition, I plan to do electives as a junior attending on our inpatient unit, work at Rikers Island Department of Corrections, and an international rotation to name a few. 
I wrap up my work day around 5PM and head home. I generally either run around the Central Park reservoir or head to Crunch Fitness gym, which as residents we can access through our Class Pass membership paid for by the department! Depending on the day, I either cook at home or go to any one of the limitless options of restaurants available to me in this city. I wrap up my day watching a ball game (go Cowboys!) or a TV show.
PGY-3: Reba E. Watsky, M.D.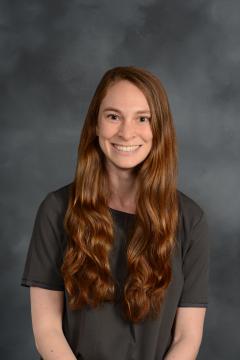 I get up around 7 a.m. to make the journey from my lovely apartment on Roosevelt Island to the hospital over on the Upper East Side. I can see the hospital from my building, but unfortunately there's no zipline across the East River yet! I appreciate the chance to get some fresh air and listen to a podcast as I make my commute.
Once at the hospital, I settle into my office on the 11th floor. I have a big window and get lots of sunlight. Luckily, the previous generations of residents to have this office did an excellent job decorating it, so I didn't have to do any work to make it a pleasant space to spend my days. I see my first patient of the day around 8:30 a.m.. From then until around 6 p.m. it's a healthy mix of patient visits, supervision and didactics. I see patients for supportive and psychodynamic psychotherapy as well as medication management. I'm in the process of learning how to do cognitive behavioral therapy and will have a CBT patient soon. I get specific, one-on-one supervision for each of my psychodynamic patients, which is one of the richest learning experiences of the year. I also get supervision in supportive psychotherapy and group therapy, and with one of my co-residents I lead a weekly group for people with psychotic disorders.
Didactics include a weekly psychopharmacology case conference, a dedicated didactic block on Thursdays from 9:15 a.m. to 1:30 p.m., and a rotation of subjects on Fridays including women's mental health, addiction and geriatric psychiatry. As I am in the child evaluation clinic during this half of the year, I also participate in a weekly child case conference. I am currently in the women's evaluation clinic as well, so I join for weekly rounds/journal club to discuss topics in reproductive psychiatry.
Between patients, I leave my door open so that co-residents can feel free to stop by to chat. Around 11 a.m., several of us like to head down to the cafeteria to get salads for lunch — the salad bar has lots of options, and the salmon is a fan favorite.
At the end of the workday, I wrap up any remaining notes and head home. Usually my husband will cook dinner for us while I do a pregnancy-approved exercise video. We end the day with an episode of "Better Call Saul" and some cookies 'n cream ice cream, or if it's nice out, we will sit out on our balcony reading while the sun sets over Queens.
PGY-2: Chara Louka, M.D.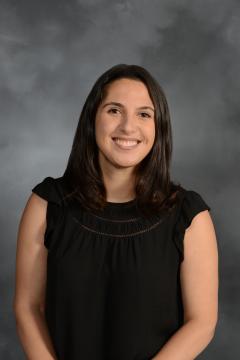 In PGY-2 year, residents spend their time between NYP-Cornell, Westchester, and Lincoln Hospital in the Bronx. Depending on the day, I wake up an hour early to go to a class at CycleBar or a workout at Crunch. I live on campus, which is within a 10 minutes radius from the hospital, the Westchester shuttle, and the subway (Q, 6 lines). I grab a coffee at Oslo and head to work.
The workday usually begins with AM rounds, followed by putting in orders, writing notes, and calling family members. (If it's a Tuesday, we have protected lecture time from 9:15am-12:15pm.) Once the morning rush slows down, I go for lunch with my co-residents. Many of us bring lunch, but if not, we run to the cafeteria or to a local lunch spot for pick-up. On Fridays at noon, we have a residency-wide Lunch and Learn. In the afternoons, I check back in with patients, touch base with my attending, and wrap up the day's to dos. This is also when I schedule any meetings with supervisors and faculty mentors.

In the evenings, I like to catch up with friends for dinner or stay in to cook. I subscribe to a weekly food box via GrowNYC that distributes fresh produce from local farms, right here on 68th street. On weekends, you can usually find me out with friends, reading in Central Park, or having brunch at Cafe d'Alsace…getting in some rest and relaxation before repeating it all again!
PGY-1: Abdallah Tom, M.D.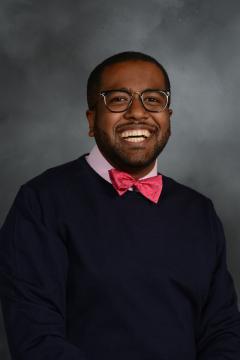 I'm currently on my off-service block so my days are unlike my co-interns on psychiatry. I start my day at around 4 am (if I'm being optimistic) with brewing Turkish coffee and pairing it with traditional Sudanese biscotti for breakfast. I would then catch up with my parents and siblings in Dubai, because of the time difference that's the only time we can catch up. I live in Helmsley, hospital subsidized housing, so I would take the tunnel to work at around 5:45 am to chart on my patients and start my notes early. I would also grab a cup of coffee from Au Bon Pain in the lobby before heading to the work room. Sign out from the night PAs on medicine is at 6:30, after which I would go pre round on all my patients. Once I'm done, I'd go back to the work room to put in orders, consults, and finish up my notes before we start table rounding with the attending at 8 am.
Different attendings have different styles when it comes to rounding, some like to bed round while others would table round, see the new admissions with the team, and then continue rounding on their own while we finish up our work. A couple of times a week while on medicine, we'd have intern conference where we would either discuss a case or have didactics. One of the perks of being in medicine is that you'll always be fed, in true NY fashion: breakfast bagels and different lunch cuisines. We then usually have afternoon teaching with attending. I then try to wrap up my work, follow up on orders and update handoffs, by around 4 pm and sign out, but realistically that's not always feasible.
When the weather is nice, I would take a walk by the East River before having dinner at home or hanging out with my co-interns. I would either cook dinner or order in from the many options that Manhattan has to offer! I would then wind down by watching a show or listening to music before heading to bed. And repeat.
PGY-1: Jeremy Levit, M.D.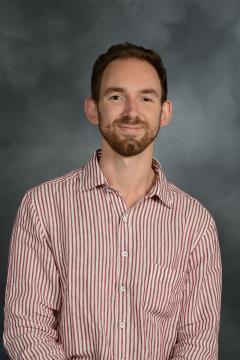 From your first day at Cornell, you are welcomed into a community of colleagues who are bright, thoughtful, and eager to help you grow. The faculty make themselves available to residents and are happy to discuss anything, from a difficult case to a personal challenge. For me, one of the biggest draws of Cornell was the highly interdisciplinary culture. While residents have the opportunity to gain exposure to cutting-edge biological interventions, emphasis remains on the work that can be done through the doctor-patient relationship.
One of my absolute favorite parts of life in the city is the live music scene. Nearly every touring musician comes through NYC, which is home to some incredible clubs, concert halls, and outdoor venues (Central Park in the summertime!). I also love going to see classic films play at New York's rerun cinemas, going record shopping, and browsing the many wonderful used bookstores in Manhattan.
I'm hoping to incorporate psychodynamic psychotherapy and psychodynamically informed prescribing into my eventual practice. However, I'm still exploring and trying to keep an open mind. I also recently discovered how much I enjoy family work, so perhaps child and adolescent psychiatry is in the cards.
PGY-1: Karen Torres Soto, M.D.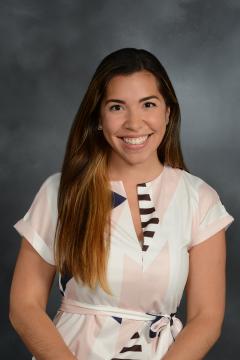 I love my sleep, so my day usually starts as late as possible to get as much sleep as I can. Lucky for me that's a comfortable 6:30 AM which gives me time to give my two puppies a quick walk around the block, make some coffee, and get ready for the day. I live 5 min away from the hospital in one of the hospital housing buildings which gives me plenty of time to catch the free 7:30 AM shuttle from NYP-Cornell in Manhattan to Westchester Behavioral Health Center where my first few rotations of residency have been. The shuttle usually arrives around 8:15 AM and I have time to grab a bite in the cafe before heading to morning report at 8:30 AM.

Following the morning report, there are interdisciplinary rounds where my attending physician, social worker on the team, nursing staff, psychology extern, medical students, and anyone else involved in the patient's care team sees them together. I enjoy these rounds because it ensures everyone caring for the patient is on the same page and this allows for the most personalized and efficient care possible. Rounds usually last about an hour, and by 10:30 AM I am back in my office writing notes and putting in orders discussed during rounds. I usually finish charting around noon and head to lunch. My co-interns and I try to break for lunch around the same time and like to get lunch together outside on the beautiful and lush campus at Westchester. On Fridays lunch is provided by the residency (really yummy options offered each time!) and there is a residency wide "Lunch and Learn" with topics varying from DEI (Diversity, Equity, and Inclusion), discussing New York Times articles, checking in with our Program Director (Dr. K), etc. It's a great time to hear from residents in different classes and get to know each other.

After lunch I spend the afternoon updating patient's family members, refreshing discharge summaries, seeing patients a second time, and finishing up any remaining tasks from the morning that still remain on my to-do list. Oftentimes I'll meet with my attending once more in the afternoon to discuss my cases in more detail (a wonderful learning experience I've really enjoyed). Sometimes I even have time to sit outside reading or listening to a podcast while I wait for the shuttle to pick us up at 5PM and bring us back to Manhattan. My puppies greet me excitedly when I get back to my apartment and I spend my evenings relaxing on my terrace with them. I'm still learning a lot so I try to read about my patients in the evenings and like to end my nights watching some Netflix or reading a book. I have so much more I could say, but I'll leave you with this: I'm loving my residency training at Weill-Cornell!