Many cultural groups have been underrepresented in the mental health field - particularly the fields of Psychology and Psychiatry - for too long. The Pathways to Psych Careers Internship and Mentorship Program aims to address this underrepresentation in a new way - by offering an internship experience and career guidance for underrepresented individuals who are planning to pursue a career in Psychology or Psychiatry.
The Pathways to Psych Careers Internship and Mentorship program is great for undergraduate students with a basic understanding of psychology that are responsible self-starters that thrive in collaborative environments. Throughout the program, interns will have the opportunity to use their analytical skills in new ways as they learn with a team of expert clinicians. 
Explore the full program details below. For questions, please email pathways-to-psych@med.cornell.edu.
Program Dates
The summer internship program will last approximately 9 weeks, from June 10, 2024 to August 5, 2024.
The internship will begin with an Orientation session, including a "Psych Careers Panel" during the week of June 3, 2024, that will introduce students to various paths that psychiatry and psychology faculty at Weill Cornell Medicine have taken in shaping their careers.
Program Location
Students will have the opportunity to work within the NewYork-Presbyterian multi-hospital system with campuses across the state. Students will participate in research and clinical work at the NewYork-Presbyterian/Weill Cornell Medical Center main campus in Manhattan, NY or the NewYork-Presbyterian Westchester Behavioral Health campus in White Plains, NY.
Program Stipend
Each student participating in this internship program will receive a stipend of $4,000 and reimbursement of any travel expenses related to commuting to and from any of the NewYork-Presbyterian or Weill Cornell Medicine campuses.
Research Experience
Students selected for this program will be placed in laboratories at Weill Cornell Medicine under the supervision of an experienced faculty member.
Students will have the choice of performing research in one of the following areas:
Exploring efficacy of technology aids in psychotherapy
The development of psychosocial interventions for middle-aged and older adults with depression, suicidal ideation, chronic pain, or cognitive impairment
Exploring strategies for addressing the psychological barriers and stigma that deter adults from utilizing mental health care
Other topics to be determined
Students' work will be guided by mentors and consist of any of the following research activities: data collection (i.e.: distributing surveys), data entry and quality checks, research participant recruitment, scientific manuscript preparation.
Students' research activities will culminate in the production of a poster presentation, which will be presented at an academic conference hosted by Weill Cornell Medicine during the final week of this internship program.
Clinical Experience
Students will have a unique opportunity to gain clinical experience during this summer internship. Students will be placed in a volunteer status on selected inpatient psychiatric units at the NewYork-Presbyterian Westchester Behavioral Health campus. There, they will engage with psychiatric patients, shadow psychology and psychiatry trainees, and engage in supervision from experienced clinicians. Units that students may be placed on include an Affective (Mood) Disorders unit, Personality Disorders unit, or an Adolescent Psychiatry unit.
Presentations
Near the conclusion of the internship, students will present their poster during an end-of-summer Academic Conference. Students will present their work as first author on their poster, with their primary mentor as the final author.
Seminar Series
Students will have the opportunity to attend lectures and didactic seminars, focusing on different areas of mental health treatment, such as various applications of cognitive behavioral therapy.
Career Development
Students will engage in ongoing career mentorship during and following the summer internship program. All students selected for this program will meet every other month with a faculty member at Weill Cornell Medicine who will follow each student throughout their remaining time enrolled in their undergraduate institution. Career development meetings will center around strengthening readiness and competitiveness for a higher education program in mental health – i.e., enrolling in a doctoral program in Psychology, or enrolling in medical school to pursue a specialization in psychiatry. Specifically, students will receive guidance surrounding preparation for entrance exams, drafting a personal statement, strengthening one's application, networking, and other relevant topics.
Program Eligibility
Individuals from groups that have been shown by the National Science Foundation to be underrepresented in health-related sciences:
The following racial and ethnic groups:

Black or African American
Hispanic or Latino
American Indian or Alaska Native
Native Hawaiian
Other Pacific Islander

Individuals with disabilities
Individuals from disadvantaged backgrounds, defined as those who meet two or more of the following criteria:
Application Materials
Please submit all application materials through our application form. If you have any questions, please contact us at pathways-to-psych@med.cornell.edu. Do not respond to any emails that are sent from an email address not including "@med.cornell.edu." 
Personal Statement
Include a personal statement indicating why you would like to participate in this internship and mentorship research program. Discuss any relevant previous research or professional experiences you have had, and also describe your goals related to a career in mental health. Please keep your essay limited to 1500 words.
Transcript/Academic Record
Please upload an unofficial transcript(s) as part of your application. Transcripts for every college or university you have attended must be submitted.
Letter of Recommendation
Please upload 1-2 letters of recommendation as part of this application.
It is recommended that at least one letter of recommendation be from:  1) A research faculty member from a lab you have worked in or who is familiar with your research work. 2) A letter of recommendation from a science faculty instructor whom you have engaged in coursework with, or 3. A program director such as one from any of the following programs: MARC, RISE, McNair, etc.
Your letter(s) of recommendation should comment on your motivation and readiness to begin your pursuit of a career in mental health.
Resume/CV
Please upload the most up to date version of your resume or CV. You can also find a resume template here. 
Proof of Citizenship
Please upload one of the following as proof of US Citizenship or permanent resident visa status:
          1) U.S. Citizenship: A copy of your birth certificate or US Passport
OR
          2) Permanent Resident Visa: A copy of your Permanent Resident Visa card.
Privacy Notice: As part of this application, we recognize that you are disclosing private and personal information. Please note that all application materials will only be viewed by leadership of this program to determine acceptance into the program, and that no private information will be shared elsewhere.
Application Deadline
All applications are to be submitted by January 12, 2024. Applications submitted following this deadline will not be reviewed or considered.
Submit your application here.
Program Leadership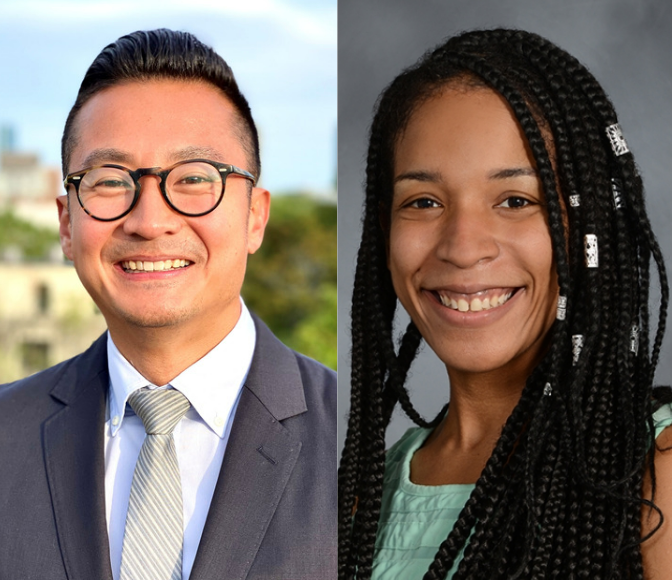 From left to right.
Justin Chen, M.D., M.P.H., Vice Chair for Health Justice and Vice Chair for Ambulatory Services
Stephanie Cherestal, Ph.D., Director, Psychiatry Diversity, Equity & Inclusion Council Assistant Professor of Psychology in Psychiatry
Planning Committee

From left to right.
Jessica Hartman, Ph.D., Assistant Professor of Psychology in Clinical Psychiatry
Dora Kanellopoulos, Ph.D., Associate Professor of Psychology in Clinical Psychiatry
Megan Mendoza, M.D., Assistant Professor of Clinical Psychiatry
Heather Neuhs, L.C.S.W., Director of Ambulatory Services, Payne Whitney Clinic, NewYork-Presbyterian
Tacina Outram, M.D., Assistant Professor of Clinical Psychiatry
Research Mentors for Summer 2023 Internship Program
Students accepted into the program will be paired with one of the following mentors that they will engage in research with during the summer internship program.

From left to right.
Jennifer Bress, Ph.D., Assistant Professor of Psychology in Psychiatry
Dimitri Kiosses, Ph.D., Professor of Psychology in Psychiatry
Conor Liston, M.D., Professor of Psychiatry, Professor of Neuology
JoAnne Sirey, Ph.D., Professor of Psychology in Psychiatry
Nili Solomonov, Ph.D., Assistant Professor of Psychology in Psychiatry