Residency Council for Diversity & Inclusion (RCDI)
Our Mission:
The Weill Cornell Psychiatry Residency Council for Diversity & Inclusion (RCDI) aims to provide a space within the residency to celebrate and promote the different and unique voices, identities, and experiences of its residents. Through this celebration of diversity among ourselves, we hope to strengthen and build our own residency community, while simultaneously enhancing the psychiatric care we deliver to hospital and community-based patients. 
RCDI aims to
Advance diversity and inclusion through recruitment of residents traditionally under-represented in medicine both in terms of background, but also in terms of willingness and courage to speak out on issues of injustice in psychiatry.
Educate ourselves and one another about the way social divisions based on class, race/ethnicity, gender, sexual identity and other life experiences and identities impact mental health, with the goal of developing into physicians more equipped to meet the mental health needs of all patients.
Address social issues impacting psychiatry through activism and collaboration within our communities. 
Structure
RCDI is led by our Department of Psychiatry's Chief Residents for Diversity, Equity & Inclusion. The Chief Residents work alongside RCDI's Co-Chairs, who are third-year residents and the Steering Committee, which includes residents from all post-graduate years.
RCDI works closely with the NYP/Weill Cornell Medicine Psychiatry Diversity Council which leads similar initiatives for the entire department.
Chief Resident for Diversity, Equity & Inclusion
The Chief Residents for Diversity, Equity & Inclusion in the Department of Psychiatry will help to further cultivate an inclusive, equitable and supportive environment for all residents, particularly residents who are underrepresented minorities. The Chief Residents will collaborate with the department, of psychiatry, RCDI, and the other chief residents to consistently assess, develop and promote such an environment, including through active involvement in recruitment, education curriculum and department programming, such as grand rounds speakers.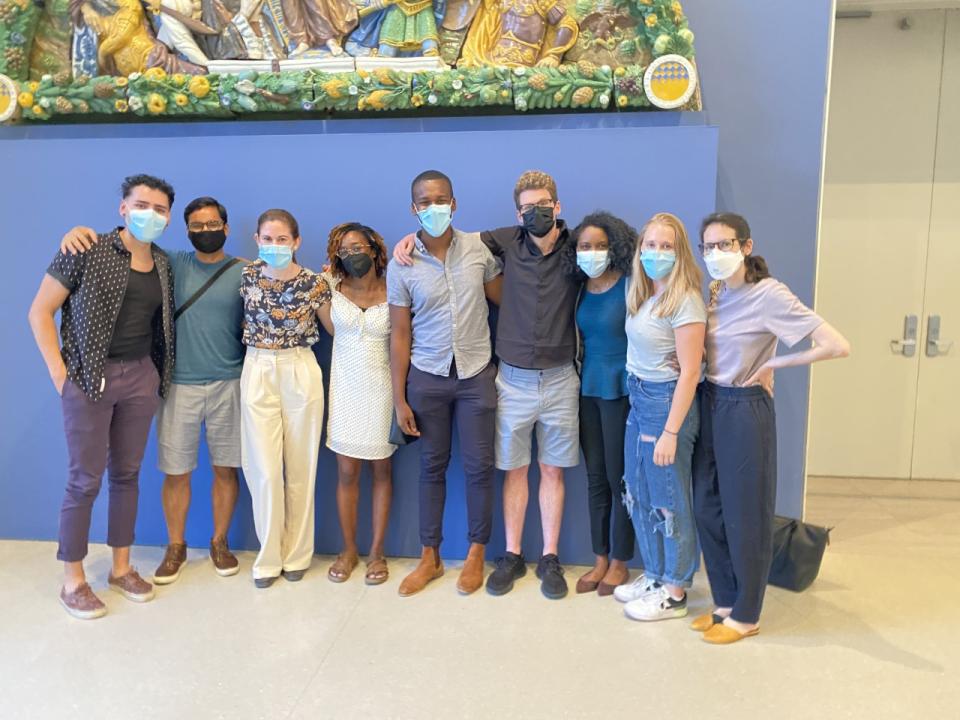 Current and Future Work
The Council is proud of its programming thus far, including the initiatives below. The Council looks forward to coordinating future initiatives, with support from the department.
Monthly Inclusion Gatherings
A space to get together to support one another and our community while "breaking bread" over department-funded dinner. We also attend exhibits in the community that convey diverse perspectives.
Lunch and Learns
Each Friday from 12-1pm, the residency hosts a luncheon discussion series for all residents focused on topics ranging from clinical ones (like journal club, M&Ms or "doctor on call" series) to resident well-being (continuing the conversation) to program-related matters (eg, recruitment). The residency supports RCDI in organizing this 3-4 sessions every year.
Diversity Reading Groups
Partnering with the Education Department and Department Diversity Council in establishing Diversity Reading Groups.
Collaborations
Collaboration with New York Presbyterian Hospital and Weill Cornell Medical College partners through:
Collaboration with other community partners through participation in weekly/monthly meetings as individual residents are able:
For prospective applicants!
If you would like more information about RCDI, please reach out to any of the residents on RCDI's 2023-2024 Steering Committee this academic year:
Max Cabrera |  tha9039@nyp.org (co-chair)
Varun Goel |   umz9001@nyp.org (co-chair)