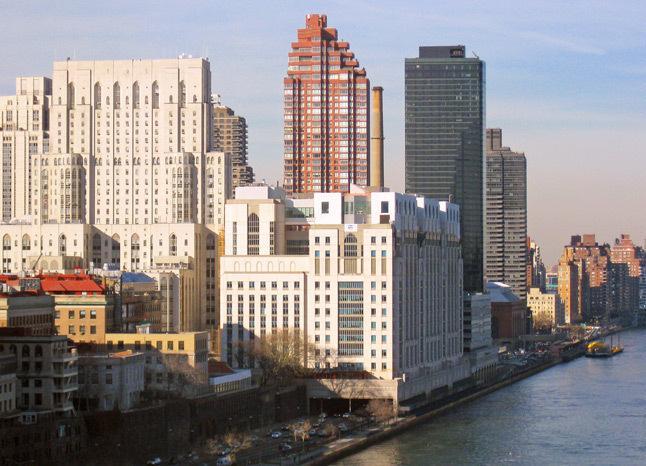 The New York Hospital was founded in 1771 by a Royal Charter granted by King George III of Great Britain and became associated with Weill Cornell Medical College upon the latter institution's founding in 1898. It was the second oldest hospital in the United States after Pennsylvania Hospital (1751).
A 1927 endowment of more than $20 million by Payne Whitney expanded the hospital significantly and the Payne Whitney Psychiatric Clinic is named in his honor. Other prominent donors have included Edward S. Harkness and Anna Harkness,[2] Howard Hughes, William Randolph Hearst, Harry and Leona Helmsley, Maurice R. Greenberg, and the Baker, Whitney, Lasdon, and Payson families.
The Presbyterian Hospital was founded in 1868 by James Lenox, a New York philanthropist and was associated with Columbia University College of Physicians and Surgeons. In 1925 the Sloane Hospital for Women, a leader in obstetrics and gynecology that had been founded in 1886, was incorporated.[3]
New York Hospital was the subject of a lawsuit from the family of Libby Zion, a young woman admitted in 1984 who died while under the care of overworked hospital residents. An investigation by the New York state Health Commissioner, the Bell Commission, led to restrictions on the number of hours residents could work and required oversight of their care by accredited physicians (this regulation is also known as the Libby Zion law). These reforms have since been adopted nationwide.[4] On January 1, 1998, The New York Hospital announced its merger with The Presbyterian Hospital to create NewYork–Presbyterian Hospital.
NewYork–Presbyterian Hospital, chartered as The New York and Presbyterian Hospital by the State of New York in 1996, was formed in 1998 with the merger of two large, previously independent hospitals, the New York Hospital and Presbyterian Hospital. The NYPH system includes a variety of outlying hospitals that had previously been acquired by NYH or Presbyterian; these hospitals stretch throughout the five boroughs, Westchester County, Long Island and New Jersey. In the name of the hospital, there is no space in "NewYork". NYPH is now the largest private employer in New York City.
The hospital, along with Weill Cornell Medical College and Columbia University College of Physicians & Surgeons, runs the NewYork-Presbyterian Healthcare System, a network of independent, cooperating, acute-care and community hospitals, continuum-of-care facilities, home-health agencies, ambulatory sites, and specialty institutes in the New York metropolitan area. It has an international operations department as well; in 2009, the hospital hired prominent medical researcher and vascular surgeon Kenneth Ouriel to head this department.[5][6]
The two medical schools remain essentially autonomous, though there is increasing cooperation and coordination of clinical, research, and residency training programs. The hospitals have merged administrations, with Herb Pardes, M.D., leading the combined hospitals since 2001.